Nowadays, there are many dog fences on the market including the electric dog fence, the in-ground fence, the invisible dog fence, the wood fence, the indoor dog fence, simple fences with fence posts, and different chain-link fences, to name but a few. All have their pros and cons; however, most have one thing in common: these fences are quite expensive. Sometimes, cheap dog fence ideas provide the best results, and don't break the bank while doing it.
Purchasing cheap alternatives for any product has its perks. Saving on cash is one of them but sometimes there are other beneficial factors such as making your own products with non-toxic materials. The brands you find in stores don't always come with the features you need and, when they do, they are often too expensive. This can be the same for finding a quality fence for your dog.
So, why not build a dog fence yourself? In this article, we will give you top DIY projects and dog fence ideas for large dogs and small dogs to keep your furry friend safe.
Do It Yourself
Finding a fence for dogs with all the features that benefit you can be a hassle. People who love making their own products are able to integrate features that are lacking in certain product models. Other benefits such as selecting which materials to use and how it's structured are aspects you're also able to control.
Here are a few dog fences you can make yourself with quality material that's inexpensive.
An Outdoor Pallet Fence
Pallets are quite strong and sturdy & they come built already so you don't need to assemble much. All you need will be a few nails and a hammer & you'll be able to make a closed off area in no time.
Pallets are made from either oak or southern yellow pine that is both quite durable. The wood is also treated which acts as a bug repellent and they're weather resistant. Your dog won't be able to bite through the wood as the slabs are built closely together.
To make your pallet fence sturdier you can fashion the bottom of the pallets into triangles so you can easily peg them into the ground. This type of barrier, together with something like a wireless dog fence system, can even be a good long-term solution.
Wooden Frame Wire Fence
A wooden frame wire fence is easy to make yourself. You may need some tools to cut the wood or you can get them cut at your local hardware store. The wire is inexpensive and they're already made into the structure you need.
All you have to do is cut the dimensions of the fencing you want and attach them to your wooden frame. Make sure the wire you purchase is weather resistant and the wood has been treated.
You can make this fence as high as you want and the area of the pen as big as you need. That makes it a practical solution for almost any dog fence scenario.
Mesh Fence with Wooden Poles
For your smaller less energetic dog types, you can build your very own small garden pen. The materials used are cheap and easy to source. You don't need any power tools to make these fence ideas come to life. All you need are small wooden poles, mesh, and wire or cable ties.
Depending on how big you want the area to be, position the poles into the shape you want and hammer them into the ground. Cut the mesh into the dimensions you need and tie them to the poles using wire or cable ties.
Make sure the wood is treated and the mesh is weather resistant.
Picket Fence
Much like pallets, picket fences are already made. They're usually made with four or five cuts of wood positioned vertically and two pieces of wood on the top &bottom to keep them firmly together. You're able to assemble the pieces of fence however you like.
This fencing idea is suitable for pets that are small enough not to jump over. You can put additional mesh around the picket fencing to stop your dogs from digging under the wood.
Other Cheap Ideas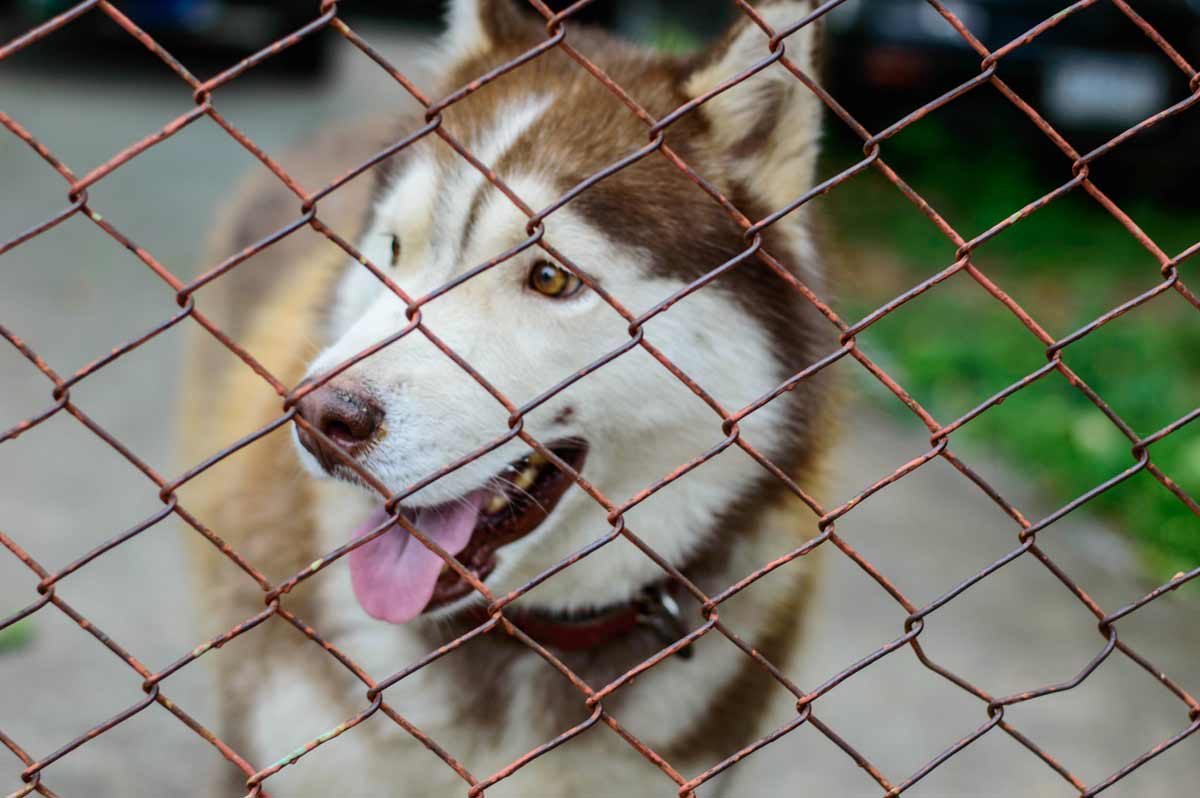 There are so many other dog fence ideas you can build but what other cheap alternatives can you use for your dogs?
Child Play Pen
Buying products meant for something completely different can still solve your problem. A child's playpen can be cheaper than an actual dog fence. These fences come in different shapes and sizes &are usually made with non-toxic plastic.
Most of these playpens come with a small door with a latch. Make sure the fence is high enough so your dogs aren't able to jump over it easily. Note that a child's playpen is usually foldable and can only be used indoors.
Cages
Purchasing a cheap cage with a large ground area can be effective. A cage is also a way to keep your pets out of the rain and out of the sun as you can cover the top with fabric. If you have more than one pet or have your own small animal shelter, you can section off the cage to allocate space for each animal.
Cages are made with certain metals that are weather-resistant, which means they won't rust when it rains. Make sure the metal is also durable as some dogs like to chew their way through the wire.
For big dogs that love to jump over fences using a cage is an excellent alternative.
Fence Rolls
If you don't like assembling or setting up cages and pens for your dogs, then fence rolls might be for you. The wire is weaved into rolls with different dimensions. You can buy offcuts at your local hardware store.
Fence rolls don't require any tools to assemble. All you have to do is roll out your sheet of fencing and place it around the area you need to be closed off. You can remove some diagonal wiring at the bottom to create spokes so you're able to stick the fencing into the ground easily.
Integrate a small door with a latch so you can enter and exit the pen a hassle-free area. Fence rolls can be used for any size dog as you can decide on the dimensions.
Final Thoughts
Now that you have so many ideas on how to make your very own dog fence, you can put your creativity to the test. Cheap fence ideas save you money and you're able to add certain features such as doors to make life easier.
If you're not big into arts and crafts, you can always try one of the alternatives mentioned above. Whatever you decide we hope that you're able to save money while still keeping your pets happy and safe.